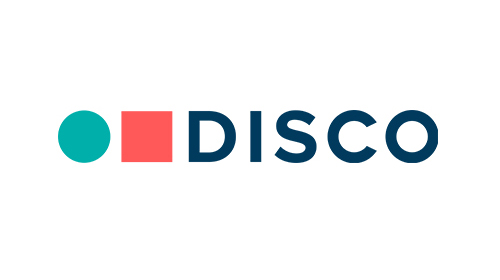 Business:
SaaS for the legal sector, including leading e-discovery and AI platform
Actions Taken:
Capital Infusions / Enhanced Leadership / Strategic Advice
Supporting Growth from Start Up to Publicly Traded Company 
In July 2021, The Stephens Group portfolio company CS Disco, Inc. (DISCO) went public on the NYSE (ticker: LAW).  The Stephens Group first invested in DISCO in 2016 and continued to support the company through three additional rounds of funding. Below, Managing Director Aaron Clark, who led the investment in DISCO, reflects back on The Stephens Group's involvement with the company and its journey from a start up to a publicly traded, AI-powered legal tech leader.
How did you find DISCO?
We were fortunate to catch up with our friends at LiveOak as they were assisting DISCO with a capital raise. We like markets where solving customer pain points requires deep domain knowledge. We look for this dynamic across all industries and product types, and DISCO jumped out at us because it possessed those characteristics.
What attracted you to the business in 2016?
DISCO had multiple characteristics that we found attractive.  First, it takes a unique founder to build a vertical software business. They must possess deep domain expertise and an appreciation for the potential of modern software. Kiwi Camara was that type of founder and on top of that a superbly talented individual. Second, as we dug in, it was clear that the product was awesome.  It was a giant leap forward from prior generations of technology. The platform was well built and scalable. We felt confident the product and platform gave DISCO the ability to achieve a high return on the additional dollars it would invest in its technology. Finally, the business had a working growth model, powered by its ability to land new customers and grow their business relationship materially over time. They didn't do this by locking customers into large, long dated contracts, but by driving usage across more and more of the customer work. In 2016, the capital markets favored long contracted revenue. We were lucky to bring fresh eyes to our review of DISCO and recognize that the company had developed a powerful model for aligning revenue with the value being delivered to customers. Management was more focused on the nature of their customer relationships than the nature of their contracts. Since 2016, DISCO, along with companies like Twilio and AWS, has proven the power of a usage-based revenue model.
One of the tenets of The Stephens Group's strategy is partnership. How has partnership played into DISCO's success?
We believe that growth equity is fundamentally a partnership business. Strong, functioning partnerships between investors and management teams deliver the best guidance and outcomes for growth stage companies. We look for good partners, and that's exactly what we found with DISCO's other investors and Board members. Furthermore, we've had a great partnership with Kiwi and the management team. Their execution of the business plan has been the real magic. One of the things I admire most about Kiwi is the culture he has created in the Board room. Maybe it's driven by Kiwi's experience as a litigator, but management always makes sound, well thought out arguments, they don't sugar coat facts, and they genuinely listen to counterpoints and rational advice.
What factors contributed to DISCO's success?
DISCO had a known market opportunity, a proven product, and a proven business model, all of which are very important, but what mattered most was that management executed on the opportunity in front of them in the years leading up to the IPO.  DISCO built their executive team, moved their headquarters, hired hundreds of people, adjusted their go to market model and pricing, completed multiple      rounds of financing, adjusted to the market impacts from CO     VID-19, etc., etc., etc. Management made the most of all those situations. Executing is about embracing pain points and addressing them head on. It's a constant process of improvement that starts with the humility to assume improvement is always possible. DISCO has that in its DNA. They brought that attitude to a market where new solutions could have a big impact. Their recent IPO is proof of that ability to execute as much as anything, and it's a reminder to us how valuable it can be.
What have you learned from the DISCO investment that you will apply to future investments?
DISCO has reinforced our commitment to a partnership centric investment philosophy. We truly value our relationships with management, the Board, and our co-investors. DISCO is a reminder that a company's true potential is revealed over time and that having the right partners is critical to the ongoing process of discovering and executing on opportunity.